Kawarau River White Water Rafting
Book rafting experiences on the Kawarau River outside Queenstown.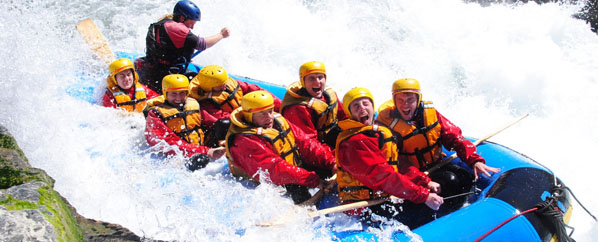 A Leisurely and Scenic Rafting Adventure from Queenstown
Travel time from Queenstown: 30 minutes
Rapid Grades: 2 – 3
For a more gentle introduction to the world of New Zealand white water rafting, the Kawarau River is a great choice of destination when in the Queenstown region. Draining from Queenstown's famous Lake Wakatipu, the Kawarau flows in an easterly direction for a distance of approximately 60 kilometres and is the site of choice for many popular adventure activities – not only white water rafting, but also bungee jumping (home to the Kawarau Bridge Bungy, the world's first commercial bungee site) and jet boating as well.
Boasting four rapids that provide a great balance of excitement and scenic enjoyment, the main of which are titled Smiths Falls, Twin Bridges, Do Little Do Nothing and the 400 metre-long Chinese Dog Leg. Between the rapids themselves, with a rafting experience on the Kawarau River you'll also experience some calm stretches of river coupled with a unique perspective of the scenery in the region.
The rapids are a gentler grade to most other rafting experiences in New Zealand, with most being introductory level 2 to 3, meaning the worst you'll encounter when rafting the safer sections of the Kawarau River are some rough water, a few rocks and some basic maneuvers that require only basic paddling skills. This combination of comfortably scenic rafting and ease of access – being located within only half an hour from Queenstown – are large contributing factors to it being the largest volume commercially-rafted river in all of New Zealand.
Kawarau River Rafting Tour
Book a full day of rafting fun on the Karawau River.
Book Kawarau River Rafting online.